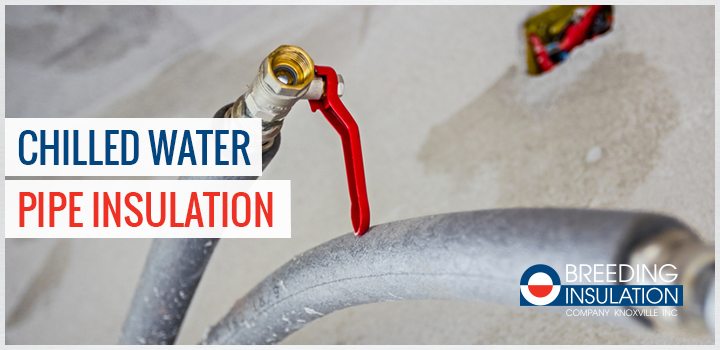 The summer forecast here in Knoxville, Tennessee, and the surrounding area can be summed up every year in two words: hot and humid.
But for our clients, summer weather means more than slapping on some extra sunscreen. It's also a time of heightened utilities costs and extra strain on mechanical systems. At special risk during the summer are a system's chilled water pipes. As temperatures rise, so does the energy cost of operation and the likelihood of breakdown.
Even worse, many chilled water systems are located in spaces that are not climate controlled. Without the proper insulation, water vapor in humid summer air will collect on the pipes to create even more damaging condensation.
Condensation in and on your chilled water pipe insulation can have a number of negative impacts:
The accumulated water will corrode and rust unprotected metal pipes.
Condensation can set up mold colonies, a health risk for workers and visitors to your site.
The presence of condensation means that the ambient air temperature is raising the temperature of your chilled water, forcing your system to work harder.
What all this means for building owners is more wear and tear on the facility's mechanical systems, along with steeper energy bills.
Fortunately, there are several commercial insulation options tailored just for chilled water pipes. Rigid and flexible applications are available in a variety of materials and sizes.
Chilled water pipe insulation works on several fronts. It keeps cold water cold by protecting it from warm air in the environment. It also forms a barrier to keep water vapor away from the pipe. Specialized materials can further protect pipes by inhibiting water penetration and mold growth.
Since insulation blocks the pipe from view, condensation problems often aren't diagnosed until the situation has become dire. That's why it's vital that your installation is installed by experienced professionals. If the insulation is breached, if the joints aren't sealed properly, or if the wrong materials are used, corrosion or mold could spread to your entire system, resulting in costly mitigation, lost time, and huge expense.
At Breeding Insulation, we have the know-how and experience to make sure your chilled water pipe insulation protects your mechanical system from unnecessary wear and tear, mold, and corrosion. If you would like to speak to one of our professionals about your chilled water pipe insulation or any other insulation need, just fill out our online bid request form today!