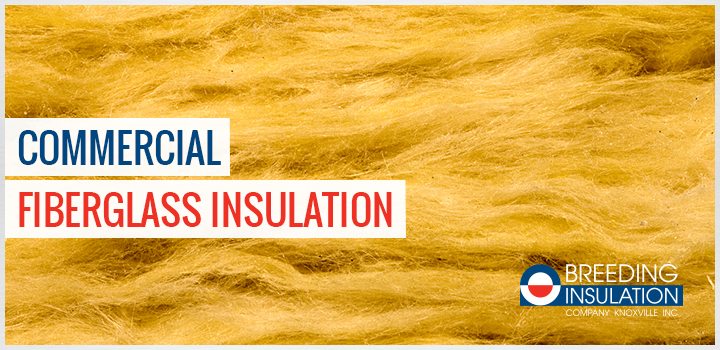 When you hear the words "commercial insulation," the first image that pops into your mind is likely fiberglass: that roll of pink, fluffy stuff lining you can find in nearly every attic. That's understandable, since fiberglass is possibly the most widely used type of insulation. It's available in a variety of forms for a variety of applications, including mechanical systems on commercial and industrial sites.
However, you might still have questions about this popular material before deciding whether to use it on your job site. We'll try to answer a few of them here with a rundown on the basics of commercial fiberglass insulation.
How It's Made
As the name suggests, fiberglass is made of fine threads or fibers of glass. The modern form of fiberglass came about through a fortunate accident in 1932. According to the National Association of Certified Home Inspectors, researcher Dale Kleist stumbled upon the method for producing large amounts of fiberglass particles when he was trying to create a vacuum-tight seal between two glass blocks. The rest, as they say, is history.
Fiberglass is present in many everyday items, including boat hulls, automobiles, and roofing.
The Benefits of Fiberglass Insulation
The benefits of commercial fiberglass insulation have made it a go-to solution for many applications. First off, it is relatively inexpensive when compared to other types of insulation. It's also very good at its job, both in temperature regulation and noise control. In commercial fiberglass insulation, the fibers trap pockets of air, preventing heat exchange from one side to the other.
Commercial fiberglass insulation is also naturally fire-retardant, and it resists mold and mildew.
Finally, fiberglass is flexible. It can be applied to almost any insulation situation and is available in rolls, blankets, spray fill, and more.
Understanding R-Value
When installing or purchasing commercial fiberglass insulation, it's important to know your R-value. R-value is a unit of measure relating to temperature change from one side of a barrier to another. For example, one inch of solid wood has an R-value of one, but an inch of blown fiberglass insulation has an R-value of 3.1 to 3.4. Familiarize yourself with the recommended R-value for your application before you start installation, and check the insulation when it arrives to ensure that you've received the correct type.
Handling Fiberglass Safely
Working with fiberglass does have carry some hazards, particularly during installation. The small glass fibers can go airborne, and if they are inhaled, they can cause breathing problems. They can also cause irritation on exposed skin. Be sure that proper protective gear is worn during installation, including long sleeves and pants, safety goggles or glasses, and a face mask if necessary.
Fiberglass Insulation Goes the Distance
According to Insulation.org, fiberglass insulation can last the life of your building if left undisturbed and in good repair. It can even be removed and reapplied if your operation expands or builds again. This represents a significant cost savings.
While this type of commercial insulation needs little maintenance, it is still important to do regular checks for damage or water infiltration, particularly on mechanical systems, as these can affect the R-value and performance of the insulation.
If you are considering commercial fiberglass insulation or any other commercial insulation application, Breeding Insulation can help. We have decades of experience with a wide variety of businesses and installation projects. Just fill out our online bid request form for large orders or visit our contact page to speak with one of our professionals today.