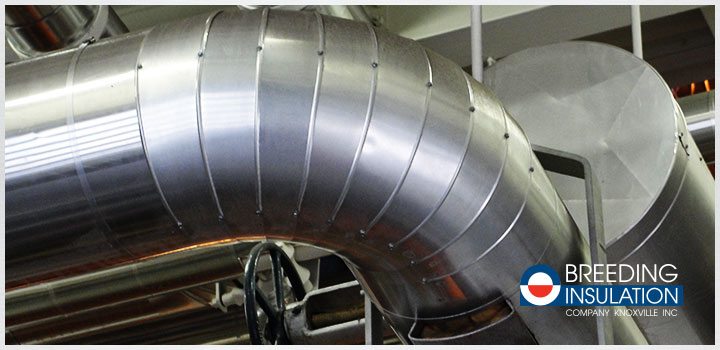 Businesses with the best reputations and most enthusiastic recommendations have them because they offer an experience a step above their competitors. Clients appreciate professional, comprehensive service and are more eager to tell others when they find it. For a commercial insulation contractor, a well-designed website and intelligent inbound marketing strategy can do a lot for business, but you need to make sure you're also offering the services that potential customers are looking for most.
Learn which commercial insulation services are most important to businesses, agencies, and schools looking for a good contractor, so you can advertise to your target audience more effectively. You'll win more projects in line with your specialties and spend less time fielding inquiries or quote requests that don't pan out.
Duct Insulation
Without the proper insulation in place, a facility's HVAC systems don't run as well as they could. They're forced to work overtime to regulate the building's temperature as heat and vapor escape. Condensation can cause mildew and mold issues, affecting the air quality and health of those working in the building.
Duct Soundproofing
The operational noise of a building's mechanical systems can quickly make any workplace annoying and unproductive. Using insulation to muffle the sound the HVAC system working helps to create a more peaceful and productive environment.
Weatherproofing
Protecting outside pipes and ducts from the elements is a sure way to help preserve their structural integrity and ensure maximum return on investment. Pipes that are guarded against rain, snow, heat, and moisture will last longer and require less maintenance or repair.
Underground Pipes
These pipe systems are especially vulnerable, since they're not seen regularly and problems can manifest long before anyone notices. Insulation adds an additional layer of protection that can extend the life of underground pipes.
Tank, Boiler, Steam Pipes
Some mechanical systems operate at temperatures that can prove extreme or dangerous for those working near them. They need insulation in the appropriate material with a temperature rating to accommodate the heat off-put and conserve energy.
Chilled Water Pipes and Pumps
As with insulating hot water or steam pipes, cold water pipes also need protection. Where temperature range compliance is necessary, another concern is condensation. Insulation can help to mitigate the risks while adding to the entire system's energy efficiency.
The next time you think about how to better serve your customers and foster trust in your team's skills, be sure that your most popular commercial insulation services are clearly displayed on your website. Make it easier for visitors to your site to find the information they need and from there, contact you and ask for an installation quote.
For over 60 years, Breeding Insulation has built a reputation throughout East Tennessee for supplying contractors and installers with the highest quality, competitively priced premium mechanical insulation. Most of this industrial mechanical insulation is available through our Knoxville warehouse in bulk quantities. Contact us with any questions or to schedule an quote.