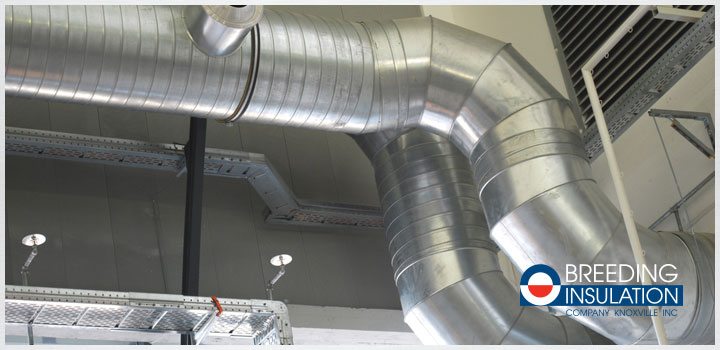 Just the sound of "duct mold" is sometimes enough to set some people's teeth on edge. Though many buildings already contain varied amounts of mold, it can be hard to tell whether yours does and in what quantities. AC Duct mold often flourishes where there's moisture and typically in places that aren't immediately visible during daily operations. Once the mold is present, there aren't many options apart from remediation. Breathing in the spores, particularly when they're blown throughout a whole ventilation system via AC ducts, can be dangerous to the health of anyone in the building. But knowing ahead of time what conditions actually help mold to form and thrive will help you know where to look for it.
Gravity
Inside your ductwork, water will naturally find its way to the lowest point. Because of this, mold is usually found forming at the registers and bottoms of AC ducts. A professional inspection may be necessary for remediation, but a check of every entrance to the HVAC system in the building should be assessed. This includes not just the registers, but the air returns as well. Don't neglect to check just wall and ceiling vents, but also examine those in the floor as well. While non-toxic mold can be cleaned to some extent without contracting with a remediation company, bringing in professional service is by far the safest and most thorough route to go.
Duct Sweat
Otherwise known as condensation, this common problem can cause a great deal of damage over time. It happens mostly in areas where humidity is high, but can still occur even in locales that are fairly dry all year. When this surface moisture drips off the ducts onto surface areas, the water will collect. If it doesn't dry properly, mold will then form and spread throughout the surrounding area. Condensation can also collect between the exterior duct wall and pipe insulation, trapping it there, and soaking the material. The resulting conditions can cause mold to grow, spreading through the insulation and onto the ducts before you notice it.
Damaged Insulation
Even with expertly installed materials, the fact is that insulation can still be damaged by moisture, fire, or wear over years of use. Deterioration reduces its effectiveness, reducing its ability to block vapor, retain energy and protect people working nearby. Worse still, damaged insulation can be more prone to harboring moisture, making it the ideal place for mold to grow. Left unchecked, the mold can contribute to any number of health issues and environmental hazards for those who come into regular contact with the area in which it's taken hold.
We have years of experience in mechanical systems insulation and are familiar with the pitfalls that can cause AC duct mold. Contact us with any questions or to learn more about our range of commercial insulation services, including exposed ductwork, steam piping, and cold condensate drains.