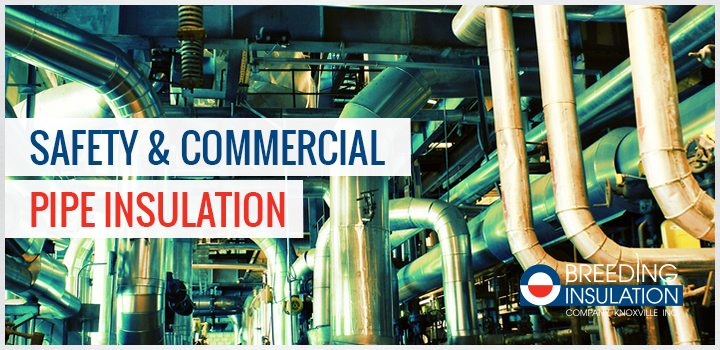 Safety is always a concern on a project, and a commercial pipe insulation site is no different. While pipe insulation offers huge benefits to companies in terms of energy costs and lifespan of equipment, there are also hazards involved in its installation. At Breeding Insulation, we take health and safety concerns seriously, and we know the best ways to mitigate these risks.
Here are some tips from our experience to help you keep your site safe.
Respiratory Health
Whether you are a contractor or a customer, you should know that some insulation types, particularly fiberglass or spray applications, can pose respiratory hazards during installation. Be sure that proper ventilation is used and that all workers wear the correct respiratory protection. The U.S. Occupational Safety and Health Administration (OSHA) has respiratory protection requirements and recommendations available on their website. Enforce your own requirements and hold employees accountable for wearing safety gear.
Protective Clothing
Protective clothing should be worn at all times, appropriate to the material and application. Fiberglass insulation particles can embed in exposed skin and cause a rash. Chemicals from spray applications are also harmful to human skin. Protective clothing can range from long sleeves and long pants to a fully-enclosed suit. Research the appropriate clothing for your application before the job starts and make sure your workers are supplied as necessary.
Proper Handling of Materials
Educate yourself on the safe storage and proper handling recommendations for the specific commercial insulation materials. Be sure any material is stored at the correct temperature and conditions. For fiberglass insulation, keep it in the packaging as long as possible. Exposing fiberglass insulation for too long can release particles into the air, leading to unnecessary respiratory hazards.
Keeping Track of Tools
Careless use or storage of tools can lead to injury and unnecessary expense as replacements need to be obtained. Require workers to keep strict inventory of tools and maintain a "place for everything and everything in its place" ethic. Misplaced tools and disorganized work spaces poses a hazard to everyone in the building.
Maintain a Safe Workforce
Workplace safety starts with your workforce. Make sure everyone on the site has the proper training, certifications, and experience for the job and for the specific materials and applications used on your commercial pipe insulation projects. Invest in employee development, taking the time to educate your workers on the latest techniques and safety standards. Regular drug testing will also help you make sure your everyone on your team is operating at the top of their game.
If you are looking for certified professionals who have the experience and know-how to install large-scale commercial pipe insulation projects with the utmost safety and expertise, Breeding Insulation is here to help. Just fill out our Bid Request Form today to speak with one of our team members.