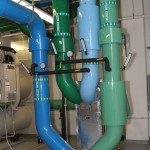 Managing the needs of a building project and your budget can be a stressful and complicated balancing act. In order to keep your timeline and ensure that the job is done right, you want to work with companies that are knowledgeable, trustworthy, and competent in their fields.
Your Mechanical Insulation Experts
The right insulation, installed properly, can save money and energy, and help to keep a building safer, more comfortable, and efficient over time. At Breeding, we understand how each component of the insulation process works as part of a whole solution and can provide detailed consultation on your project needs. We can also help to make sure your building meets ductwork insulation standards and pass any necessary inspections.
With a company reputation backed by decades of expertise and a corporate philosophy of hard work, honesty, and integrity, Breeding Insulation Knoxville is the trusted choice for mechanical insulation services at the local commercial, industrial, and government level.
A Record of High Quality Work
Our portfolio of successful projects spans a range of insulation jobs across the greater Knoxville area and East Tennessee, with extension to surrounding areas in Kentucky, North Carolina, Virginia, and beyond. We're equipped to handle the mechanical insulation needs of facilities at any size and layout.
A Dependable, Qualified Team
We work diligently to ensure a safe and professional work environment. All of our employees are vetted and must pass drug testing prior to employment. They are also subject to random on-site testing per our corporate safety policy and designation as a Tennessee Drug-Free Workplace employer.
Our mechanical insulation contract offerings span a range of vital services, including:
Domestic cold & hot water
Heating water
Steam piping
Refrigerant piping
Cold condensate drains
Roof drains
Supply, return, & outside air ducts
Ductwork exposed to weather
Kitchen hood exhaust / Grease duct
Lab fume hoods
Dryer exhaust
Chillers
Boilers
Air separators
Heat exchangers
Expansion tanks
Contact us for more information or submit a bid request form for your upcoming project.