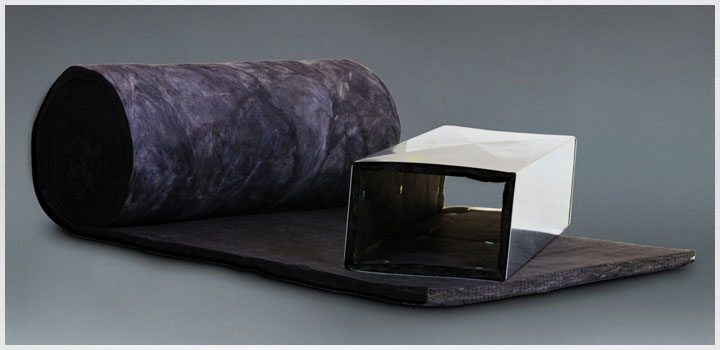 A good HVAC system can provide tremendous comfort—but it can also cause irritation, usually in the form of noise. An HVAC system that is installed without noise-reducing liners can cause all manner of shake, rattle, and roll—noise pollution that the building inhabitants will notice with displeasure.
Make Your Ductwork QuietR®
But there are ways to dampen and diminish HVAC noise. A product we recommend: QuietR acoustic duct liner board. This product is essentially a bonded board of glass fibers, designed for installation within sheet metal ductwork or plenums with metal fasteners and adherents.
The goal is to absorb noise that's carried down the sheet metal ducts, and in the process to improve the environmental quality within the building. In short, it'll minimize the racket you hear from the HVAC system during peak heating and cooling seasons.
Benefits of QuietR Technology
That QuietR technology is acoustically efficient—helping create quiet and comfortable environments—is its big selling point and its most significant feature. That said, there are certainly other reasons to choose it for your HVAC project:
It's thermally effective. This duct liner product doesn't just keep things quiet; it can actually reduce heating and cooling costs, reducing the heat loss/gain through duct walls and thereby conserving energy.
It's rugged! The QuietR product is built to be tough and resistant to all manner of abuse. Installation is affordable, too, because these products can withstand whatever physical strain they are put under during the installation process.
It's fairly easy to clean. You'll see a smooth, black mat surface that's easy to clean using whatever duct liner cleaning processes you're accustomed to. In other words, maintenance is simple.
It's fire resistant. QuietR technology is thoroughly fire-tested and proven to be flame resistant.
It's bacteria and fungus resistant, too. QuietR is made with an EPA-registered biocide which protects against possible microbial growths. For installation in public facilities, in particular, this is a major benefit! (Don't forget that Legionnaire's Disease originated in some ductwork.)
There are plenty of reasons to investigate this product, but again what it boils down to is creating an indoor environment where HVAC noises are not disruptive or annoying. That's where this product shines, and it's for that reason that we at Breeding Insulation recommend and sell it! Contact us to learn more about this unique product or to order QuietR today!