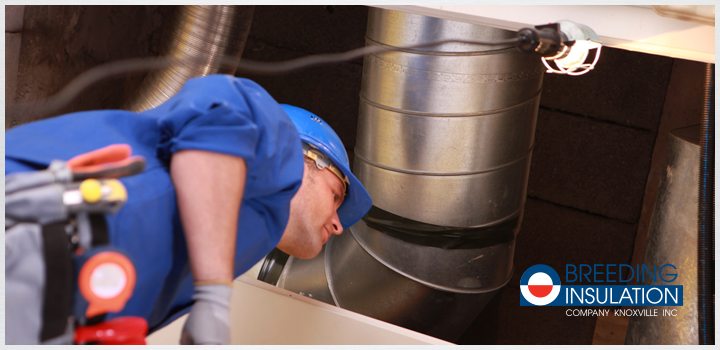 When properly installed by trained professionals, good duct insulation does its job quietly in the background. So, it's easy to forget that insulation needs regular maintenance checks to nip problems in the bud.
In some cases, those problems could become real health and safety hazards, too.
Damage
If your ductwork insulation has taken any physical damage, you should of course replace it. Even flexible insulation forms can experience structural damage that can't be seen by the naked eye. In the case of fiberglass insulation, that damage could release chemicals or fiberglass particles into the air.
Water
If certain types of insulation are exposed to moisture, they can develop mold, potentially leading to health problems. Water can also harm the structure of the insulation, leading it to deteriorate more quickly.
Excess Heat
Be aware of how much heat your duct insulation can stand. If you've exceeded that level, get the insulation inspected. Again, harmful chemicals can be released from burned or damaged insulation. The insulation can also harbor bits of ash and chemicals from smoke, so insulation must be replaced if exposed to smoke or fire.
Harsh Cleaning
If done improperly, duct cleaning can harm duct liners, leading to the release of harmful particles or loss of efficiency. Dangling pieces of duct liners can impede airflow or even break off and get stuck in machinery.
Higher Bills
If there has been an increase in utility bills, it's possible that your duct insulation is not performing as it should. A simple maintenance check will determine whether the problem is the insulation or something else.
Wear and Tear
While quality, professionally installed duct insulation lasts a long time, it is subject to normal wear and tear just like any other system. Erosion from airflow alone means that duct insulation won't last forever. Regular maintenance checks should be conducted on all ducts.
Breeding Insulation is ready to help you with any commercial duct insulation project, new or replacement. We can advise you on the best products to meet your needs. Need a little more help? We install insulation, too—just fill out our online Bid Request Form and one of our professionals will get in touch.