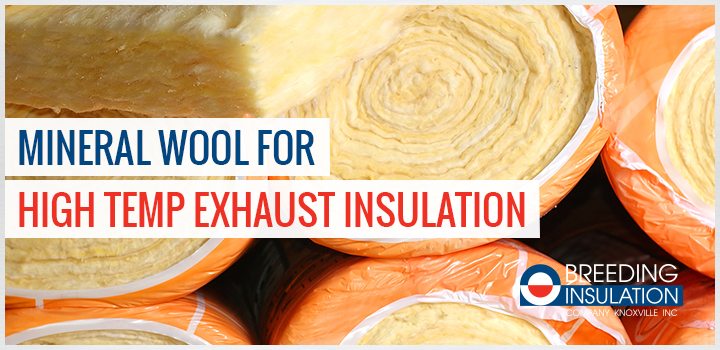 Every commercial insulation project has unique needs, but some of the most challenging are those involving high-temperature exhaust pipes. In these cases, the insulation required must perform on a number of fronts. It must resist high temperatures, resist water vapor infiltration, and be flexible enough to install in various shapes.
For those very reasons, mineral wool is an excellent insulation choice to use on high-temp exhaust systems. Also called "mineral fiber," "rock wool," or "slag wool," it performs well at high temperature ranges. As the names imply, this insulation is made up of thin fibers of rock or ceramic. The method of producing mineral wool was first patented in the late 19th century. To create it, rock is heated to a molten state, then a stream of air "spins" it into thin fibers until it cools into a kind of wool. The process resembles the one used to create cotton candy. The resulting material is very durable and resistant, ideal for a range of applications.
When installing mineral wool to high-temp exhaust pipes or other mechanical system components, be sure to follow best practices for safe handling of the insulation and use the appropriate gear to protect your skin, eyes, and lungs from airborne fibers.
There are several variations of mineral wool insulation, but one of the most highly recommended for high-temp exhaust systems is High Temperature Fiber, particularly Refractory Ceramic Fibers (RCF). The higher rated varieties of this insulation are often used to line kilns or furnaces and can withstand intense heat.
Properties of RCF insulation include:
Temperature ratings up to 3,000° F
Water-resistant
Lightweight
Available in a variety of forms, including bats or rolls, pipe forms, blocks, boards, and blankets
Pneumatic application also available
When you need high-temp exhaust insulation installed on your project, consider mineral wool and a professional local company, like Breeding Insulation. We have decades of experience working with all kinds of commercial systems, for hospitals, government buildings, schools, and airports. To speak with one of our experienced professionals about options for your system, just fill out our convenient online bid request form today!