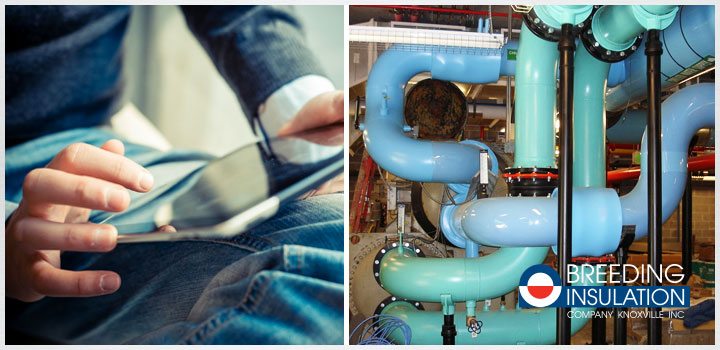 Advances in technology have changed cutting edge industries, from medicine to aviation. However, these leaps forward have helped to streamline more traditional trades as well. This includes commercial pipe insulation. Technology has improved not just the way insulation is made and how it can be installed, but how we can keep track of its state of repair remotely.
Wireless sensors, paired with compatible jacketing, can track vital factors that affect the insulation. This new solution has several advantages. When you want an affordable way to prolong your work and your customer's investment, consider the following benefits.
Better Monitoring
Insulation is an important component of any building, but it often goes often overlooked until it's too damaged or degraded. Wireless sensors play a role in averting this through constant surveys. These types of sensors, which can typically run on AA batteries for years, transmit data – namely the insulation's internal, surface, and ambient temperatures – several times a day or as often as you program them. The results are then viewable online, which makes access to the information simple. Discovering issues ahead of time means you can address them sooner, too.
More Efficient Repair
With the necessary stats at your fingertips, you can be proactive about keeping your commercial pipe insulation in its best state. Well-maintained materials guard against condensation, mold, and vapor leakage. It uses energy more efficiently in addition to physically protecting the pipes and the people who work around them. If insulation is operating outside of its temperature range, it can indicate a problem. Wireless oversight can minimize the strain on the mechanical system and keep it working optimally, since you can schedule repairs ahead of time.
Cost Savings
More effective monitoring allows for an organized maintenance and repair schedule, which enables you (and the building owners) to prepare ahead of time. Budgeting can then be accounted for in advance, so that labor, materials, tools, and other supplies won't put an unexpected dent in the cost of running the facility. Workers are kept safe and comfortable, and the commercial pipe insulation remains in good repair so that mechanical systems, HVAC, and water pipes stay that way, too.
Wireless sensors are a high tech, but low maintenance way to preserve commercial pipe insulation and save money over the years. They're easy to install and use. Even better, they can help avoid breakdown of the insulation system long before it starts. Ultimately, sensors can improve the efficiency of work for contractors, safeguard the work environment and employees, and give greater peace of mind to building owners.
At Breeding Insulation, we pride ourselves on safety and the high quality of our work. View our past projects to learn about our installations for commercial, industrial, educational, and government facilities. Contact us for a quote.